From the Shelf
New Year, New Eats
What better time to try something new than a new year? After the parade of familiar holiday fare, keep the oven on and your sense of adventure ignited with cookbooks offering new flavors.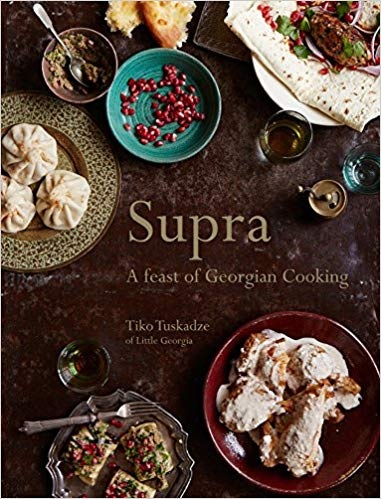 Continuing the spirit of sharing your table with people you love, host a feast any time with Supra: A Feast of Georgian Cooking (Pavilion Books, $27.95) by restaurateur Tiko Tuskadze. Tuskadze celebrates the culture and conviviality of the country of Georgia. Standout recipes include Nigvziani Badrijani (Aubergines Stuffed with Walnut Paste), beautiful and bejeweled with pomegranate seeds; Kebabi (Lamb Kebabs); and the toasty, melty Imeruli Khachapuri (Imerulian Cheese Bread), "perhaps the most iconic of all Georgian dishes."
Head to Portugal and dive into Rebecca Seal's Lisbon: Recipes from the Heart of Portugal (Hardie Grant, $35). Begin with the meaty-but-vegan Hearts of Palm Ceviche. Then, for intense flavor, make Spicy, Garlicky Prawns (warmed with a dash of whisky), Flaming Chorizo or Roasted Pork Belly with Sweet Potato Mash. Close with Molotov Pudding.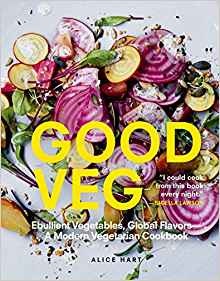 For something a bit lighter, see Good Veg: Ebullient Vegetables, Global Flavors--A Modern Vegetarian Cookbook (The Experiment, $24.99) by food writer and stylist Alice Hart. Hart's Baked Purple Goat Cheese Gnocchi will please the taste buds as well as the eyes, as will Butter-Glazed Radishes with Capers and Walnuts or Baked Polenta and Sweet Potato with Halloumi Salsa.
Finally, go vintage for a take on cooking first published in 1960 that still feels as fresh as ever: Peg Bracken's The I Hate to Cook Book (Grand Central Publishing, $25). Try the timeless Turkey Tetrazzini or Spinach Surprise, wherein "the surprise is that there's usually none left." Bracken's classic does what all of these, and perhaps all great cookbooks, do: motivate us to fill our plates with tastes old and new, tempting and entertaining us all the way to a shared table. --Katie Weed, freelance writer and reviewer

In this Issue...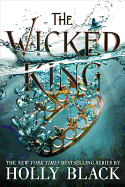 As de facto ruler of Elfhame, Jude struggles to retain power in a divided court in this sequel to The Cruel Prince.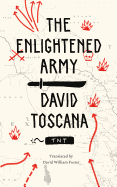 The Enlightened Army is a delightful exploration of absurdity and delusion as one man attempts to conquer Texas on behalf of an uninterested Mexico.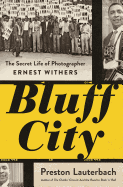 A popular historian digs into the complex legacy of an iconic photographer from the civil rights movement who served as a spy for the FBI.
Review by Subjects:
Fiction ⋅ Mystery & Thriller ⋅ Biography & Memoir ⋅ Social Science ⋅ Children's & Young Adult

From Liberty Bay Books
Upcoming Events
01/24/2019 - 10:00AM
Mystery Book Club We always meet the 4th Thursday  each month at 10am at our Poulsbo store. Plan to join us. Always a great discussion  
Bremerton Book Club Fantastic Books & Where to Find them
01/24/2019 - 6:00PM
FANTASTIC BOOKS AND WHERE TO FIND THEM Bremerton Book Club meets at Love Craft Brewery, reading mainly fantasy books. Join us on the 4th Thursday of the month, 6pm
Bremerton Open Pages Book Club
01/26/2019 - 6:30PM
Open Pages A Book club focused on books written by Diverse Authors! Open to all ages (parents must attend with their pre-teen/teen that is attending) Meeting the 4th Saturday at Lovecraft Brewing, just around the corner from our Bremerton store
Slaughter County Reads Harder Book Club
01/28/2019 - 6:00PM
Port Orchard Book Club at Slaughter County Brewing the 4th Monday Night at 6pm
Book Candy
Parts of the Book, Explained

Great Reads
Rediscover: Worlds of Exile and Illusion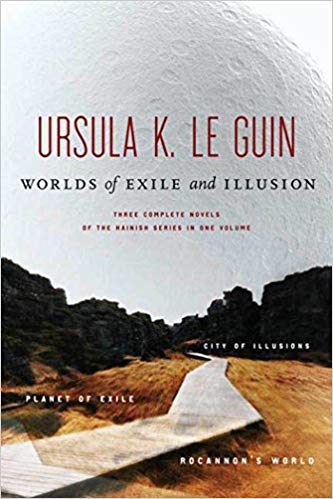 Worlds of Exile and Illusion by Ursula K. Le Guin (Orb Books, 9780312862114) collects three of the author's short science fiction novels in one volume. Originally written in the late 1960s, Rocannon's World, Planet of Exile and City of Illusions are all set in the same fictional universe as some of her best-known books, including The Left Hand of Darkness and The Dispossessed. And while many of Le Guin's Hainish novels are often only tangentially related, the three stories making up Worlds of Exile and Illusion form a fascinating, compelling trilogy.
In Rocannon's World, the leader of an ethnographic research team is stranded on an alien world after a rebel faction within the galaxy-spanning League of All Worlds attacks his research ship. As the sole survivor of the expedition, he must partner with several of the world's natives, who live in a quasi-Medieval feudal society, and undertake a dangerous journey to sabotage the rebels and warn the League of All Worlds.
In Planet of Exile, a League of All Worlds colony has been abandoned on a distant planet. There has been no contact with other planets for generations, ever since the League sent out an urgent call for aid to help fight a fearsome, new enemy known as the Shing. As the colony's descendants grapple with being stuck there forever, they have no choice but to join the world's inhabitants in a desperate fight for survival.
And in City of Illusions, set centuries after Planet of Exile, the Shing have obliterated the League of All Worlds and rule over its core planets, including Earth. Falk, a man with no knowledge of his past, travels across the ruins of North America, heading for the Shing city of Es Toch. --Alex Mutter

The Writer's Life
Laurie Halse Anderson: Sometimes You Have to Shout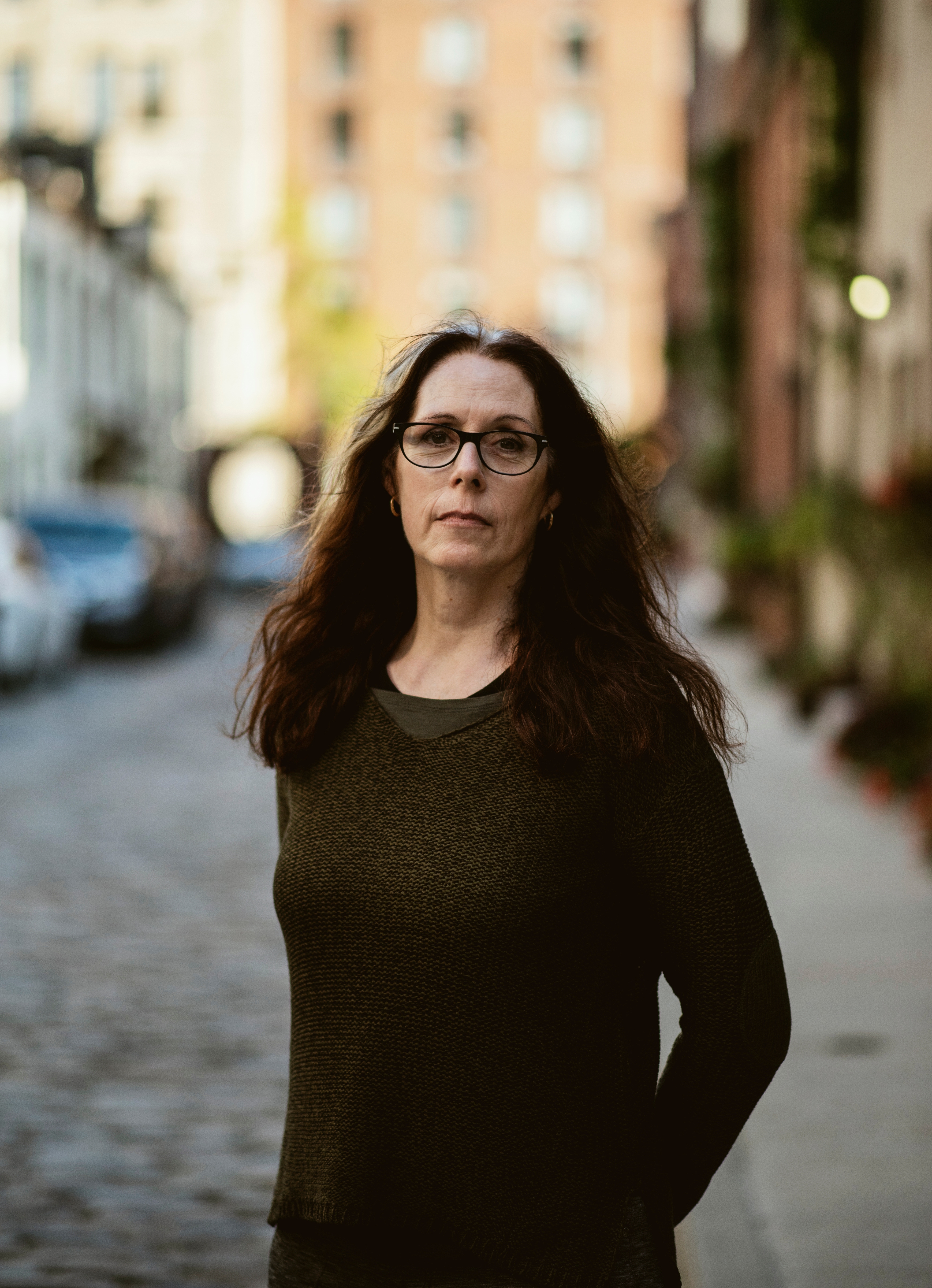 Laurie Halse Anderson
(photo: Randy Fontanilla)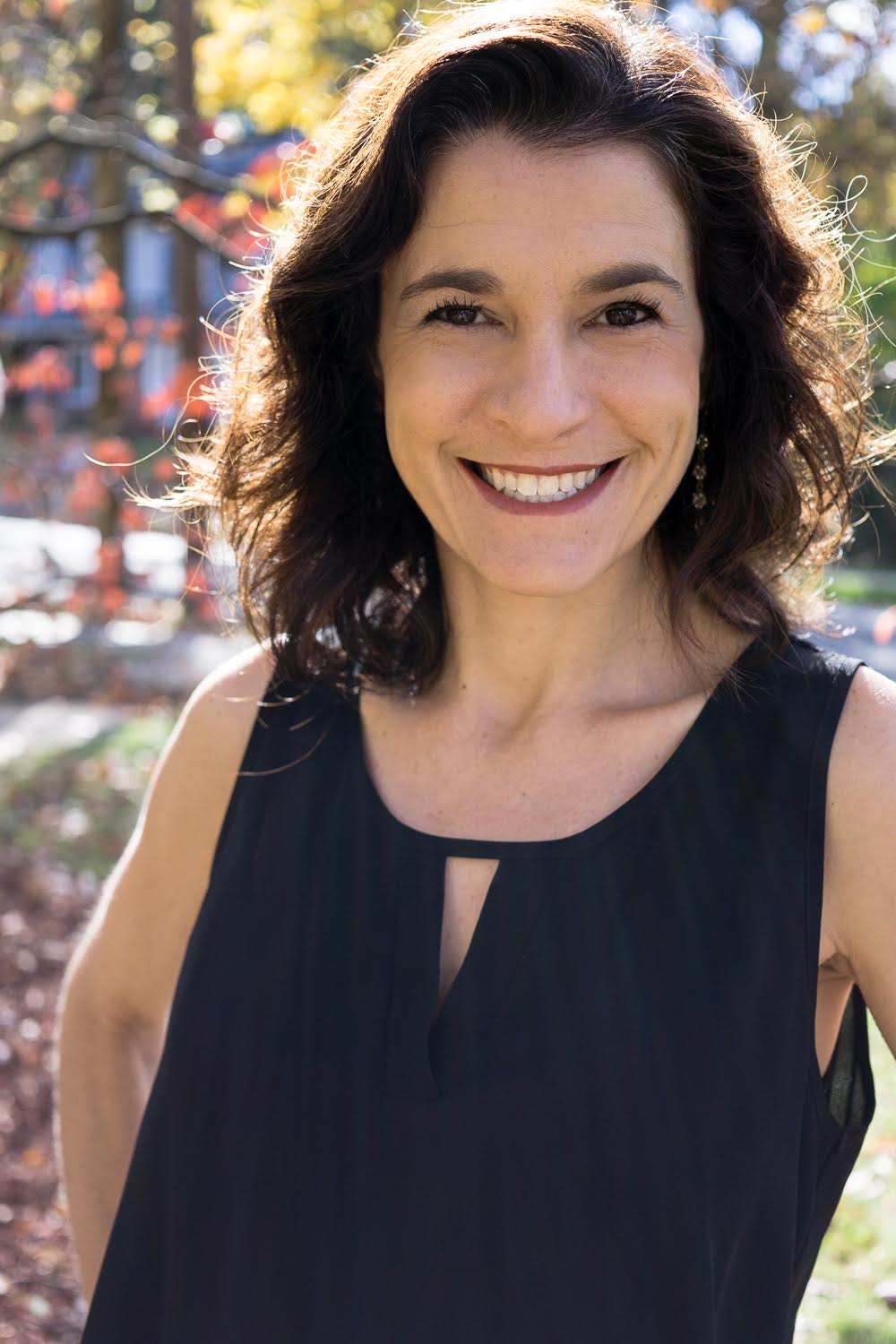 Joy Peskin
(photo: Franck Goldberg)
It's been 20 years since Laurie Halse Anderson's groundbreaking first novel, Speak, was published. In honor of this anniversary, Joy Peskin, Farrar, Straus and Giroux Books for Young Readers editorial director and Anderson's editor, interviewed Anderson for Shelf Awareness. A 20th-anniversary edition of Speak, with a new introduction by Ashley C. Ford and an afterword by Jason Reynolds, was just released.
Joy Peskin: According to Jean-Baptiste Alphonse Karr, "The more things change, the more they stay the same." What in your own life has changed in the past 20 years, since Speak was first published, and what has stayed the same?
Laurie Halse Anderson: My life has gone through tremendous changes, particularly in terms of my family responsibilities. We raised our children, took care of elderly and dying parents and are now enjoying the bliss of grandparenthood. Along with writing lots of YA and historical fiction books, I've also traveled the globe talking with and listening to readers, teachers and families about books, reading and what's important in life.
But still... every 98 seconds, someone in America is sexually assaulted. Every 11 minutes, that victim is a child or teen (source: https://www.rainn.org/statistics).
Until we dramatically change society's willingness to talk about sexual violence, and support victims instead of protecting perpetrators, those horrifying statistics won't change.
How would you say society has changed in the past 20 years, especially in relation to sexual violence, gender politics and other issues you talk about in Speak? How have things stayed the same?
We've made some progress in accepting, supporting and respecting LGBTQIA people, but we have far to go. Women are still underpaid, overlooked, harassed, abused and molested with little judicial recourse and much online shaming. Parents are still afraid to talk to their kids about healthy sexuality and consent. The #MeToo movement has helped open the conversation a bit, but the majority of men I've seen are fighting hard to shut it down.
We've taken a few baby steps. We have miles to go.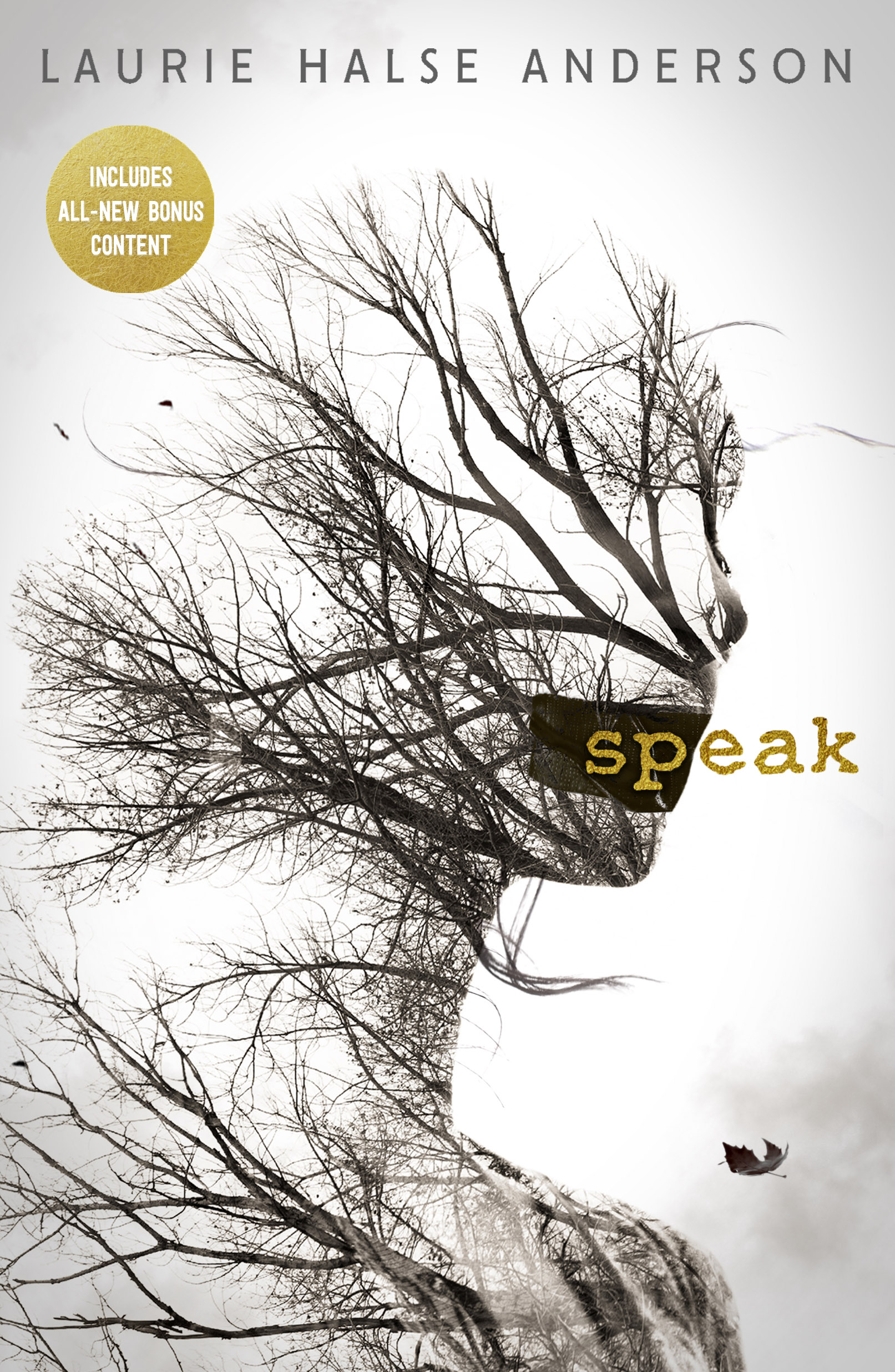 When I reread Speak in anticipation of working with you on the 20th anniversary edition, I was struck by how eerily timely it feels--almost as if you wrote it 20 weeks ago, not 20 years ago. What do you think makes Melinda's story so enduring?
I tried to avoid dating the book with too much slang or fashion references. That certainly helped. And sadly, the meat-grinder aspect of high school life hasn't changed much in two decades.
Speaking up after you've been victimized by a traumatic thing is an enormous challenge. While Speak certainly centers on sexual violence, the fact that it provides readers with a practical model of speaking up after trauma is the key to its longevity. Few people get through adolescence without emotional scars.
I've been lucky to sit by your side at several book signings, and without fail, someone tells you how much they connected with Melinda's story. People often cry or confide in you their most personal experiences. How do you, as an author (and not a therapist), cope with holding the pain of your fans?
People in pain need to be heard. They deserve compassion, tissues and an open heart. Sometimes they want a hug. Providing those things to readers is a tremendous honor for me. It's like acknowledging the physical and emotional sacrifices made by our veterans. I can't fix them, but I can help them find healthy support. I can let them know they are seen and their pain is valid. That they trust me enough to share that pain strengthens me.
The 20th-anniversary edition of Speak contains an introduction by Ashley C. Ford and an afterword by Jason Reynolds. Why did you choose each of them to contribute to this edition of the book?
Ashley interviewed Emily Carroll (illustrator of the Speak graphic novel) and me at the Los Angeles Times Festival of Books last year. It was far and away the best interview I've had in my entire career. She's brilliant, insightful and an important new voice in the literary community. I've known Jason since When I Was the Greatest was published in 2014. His ability to understand and support teen readers is unparalleled. His voice is significant and powerful. I'm so grateful to both Ashley and Jason for helping Speak reach the next generation.
For this edition, you wrote an essay on consent. Why do you think it's important for young people to learn to talk about consent?
Because you should never touch another person's body without their permission. That rather basic lesson is one that is rarely taught to children. Too many of those children grow up to commit crimes of sexual harassment, abuse and/or violence. The only way to prevent those crimes, and stop the victimization of millions, is to be honest with kids about healthy sexuality, and crystal-clear about the laws and moral code surrounding consent.
You have a new book coming out from Viking Children's Books called Shout, in which you discuss, among other things, your personal experience as a rape survivor. When Speak was first published, do you think many people knew it was inspired, in part, by your own life?
I think a lot of people suspected this was true. Adults never dared to ask, but teens did, to my delight. I always told them the truth: what really happened to me, and how much of my personal experience was woven into Melinda's. Their reactions to my stories led me to write Shout. It's my memoir, written in verse--part biography, part call to action, and all rage.
Sometimes speaking up isn't enough. Sometimes you have to shout.
In 30 years, when we celebrate the 50th anniversary of Speak (as little old ladies), in what ways do you hope society will have changed?
I hope the 50th anniversary edition will be a nostalgic one, of interest to people curious about the brutal time period that the book portrays. I hope that teens then will be baffled by a world where traumatized kids were shamed and silenced, and sexual violence was commonplace.
Let's make that happen!
Book Reviews
Fiction

University of Texas Press, $19.95, paperback, 232p., 9781477317778
Doubleday, $25.95, hardcover, 288p., 9780385543873
Viking, $26, hardcover, 416p., 9780399162589
Mystery & Thriller
Atlantic Monthly Press, $26, hardcover, 432p., 9780802129123
Grand Central, $26, hardcover, 416p., 9781538759950
Pegasus Books, $25.95, hardcover, 384p., 9781681778754
Biography & Memoir

W.W. Norton, $27.95, hardcover, 352p., 9780393247923
Knopf, $24.95, hardcover, 272p., 9781524732714
Liveright, $21.95, hardcover, 176p., 9781631494703
Social Science
Houghton Mifflin Harcourt, $27, hardcover, 320p., 9780544702486
Children's & Young Adult

Little, Brown, $19.99, hardcover, 336p., ages 14-up, 9780316310352
Candlewick, $19.99, hardcover, 192p., ages 14-up, 9780763678845
Rick Riordon Presents/Disney-Hyperion, $16.99, hardcover, 320p., ages 9-12, 9781368013352