Buried Lives: The Enslaved People of George Washington's Mount Vernon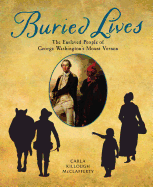 By the time George Washington died in 1799, his estate, Mount Vernon, was home to 317 enslaved African American men, women and children. The irony was that "the man who led the fight for American freedom" remained a slave owner his entire life, despite his well-stated personal objections to slavery. In Buried Lives, award-winning author Carla Killough McClafferty (The Many Faces of George Washington: Remaking a Presidential Icon) confronts Washington's role as a conflicted slave owner through the stories of six enslaved Mount Vernon residents.
William Lee was Washington's valet, attending to all his personal needs. Lee served Washington through the Revolutionary War; when severe knee injuries made service impossible for Lee, Christopher Sheels became Washington's personal valet. Caroline was a housemaid in the mansion, while her husband, Peter Hardiman, ran Mount Vernon's large-scale mule-breeding operation. Ona Maria Judge, who began service as a child at Mount Vernon, was Martha's personal maid and accompanied the first First Lady to New York and Philadelphia. Hercules was the renowned "chief cook in the kitchen of the president of the United States" in Philadelphia who impressed dignitaries from all over the world with his culinary prowess.
Relying on extensive research, McClafferty provides an alternative history to the existing, too-often idealized founding fathers' mythology. Beyond the biographies, McClafferty continues with "And Then What Happened?," culling additional information about the descendants of the six slaves. She devotes multiple chapters to the recent archeological reclamation and restoration of the unmarked, untended burial site of Mount Vernon's enslaved and further illuminates her words with drawings, maps, newspaper clippings, photographs and other relevant documents that enhance an already compelling narrative. McCafferty's Buried Lives is a long overdue, careful testimony for a new generation of questioning, challenging readers. --Terry Hong, Smithsonian BookDragon