Escaping Wars and Waves: Encounters with Syrian Refugees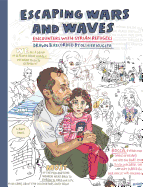 Journalist illustrator Olivier Kugler has created a powerful chronicle with his book of interviews and drawings, Escaping Wars and Waves: Encounters with Syrian Refugees.
While embedded with Doctors Without Borders, Kugler interviewed and photographed Syrian refugees and the people helping them in camps in Iraq, Greece and France, as well as families who've resettled in England and Germany. He drew scenes and people from his photos and re-created their interviews in a graphic-novel style that captures the plight of displaced people fleeing their beloved but war-torn country. Ahmed, forced to leave Syria with his wife and six children when its infrastructure crumbled, hopes to get to Germany. But he's stuck in a wet, cold single-room tent in an Iraqi camp. Amira, a 23-year-old physics student, arrived in Greece and walked four miles through hot hills to a hospital just in time to give birth to a son who almost died. Many Syrian refugees live in Calais, France, in a camp called "The Jungle," within sight of the ferries going to England but unable to leave because of armed guards, high fences and the inability to get a visa.
Kugler's interviews form an intense and compelling portrait of people who just want to live ordinary lives and the compassionate people helping them. His original style, layering black-and-white sketches with colored drawings and objects highlighted in each scene, creates a sense of motion and realism. This poignant and eloquent close-up view provides an important and rarely seen perspective. --Suzan L. Jackson, freelance writer and author of Book By Book blog