I'm Not Here to Give a Speech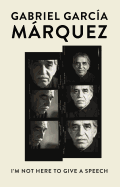 The hearty humor and intelligence of celebrated Colombian author Gabriel García Márquez (1927-2014) are on full display in I'm Not Here to Give a Speech, a lively selection of the Nobel laureate's speeches. Translated into English by Edith Grossman, the slender volume covers seven decades of García Márquez's life, starting in 1944 with a speech he gave to his schoolmates. The book includes his famous Nobel Prize acceptance speech from 1982, many speeches delivered across Latin America during tumultuous times, and several speeches delivered in his homeland of Colombia, some as recently as 2007.
García Márquez approached his various subjects with self-deprecating humor, admitting early on he was terrified of giving speeches. This sets the stage for an orator of great gifts who can spin stories, riff on poetry and delve deep into world history without a single note of self-importance. Fellow writers will enjoy his commentary on the craft of writing. "We're writers not through our own merits but because of the misfortune that we can't be anything else," he wittingly said in a speech in 1972. Other speeches touch upon journalism, nuclear proliferation, globalization and the drug trade. But when talking about the history and destiny of Latin America that García Márquez became his most passionate and brilliant. He called for a new era of creativity led by Latin American culture, by those "masters of the imagination."
I'm Not Here to Give a Speech gives fresh voice to a legend. A rousing read for lovers of world literature. --Scott Neuffer, writer, poet, editor of trampset