Hollywood's Eve: Eve Babitz and the Secret History of L.A.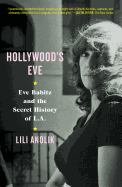 Before she became an artist and author (Slow Days, Fast Company), Eve Babitz was a party girl par excellence. Carousing with artists, actors and musicians came naturally to her: Eve's mother was an artist; her father was a movie musician; and her godfather was composer Igor Stravinsky. In 1963, when she was 20, she gained notoriety when for an art exhibit she posed for a nude photograph playing chess with artist Marcel Duchamp. She was sexually free and enjoyed her drugs. Babitz once said, "Anyone who lived past thirty just wasn't trying hard enough to have fun."
Much of this juicy and illuminating biography concerns how Vanity Fair contributing editor Lili Anolik's appreciation of Babitz's numerous books and album cover art led her to seek out the now-reclusive icon. Babitz left the limelight after a 1997 fire left her with third-degree burns and massive medical debt. The generous quotations from the author's novels display a witty, caustic and observant writer well worth rediscovering.
But many will read Hollywood's Eve for the tantalizing tales of her sexual exploits. She dated Steve Martin, Jim Morrison, Jack Nicholson and others. Novelist Dan Wakefield remembers, "Our year together was one of my favorite years, but I couldn't have lived through two of them. My God, the decadence!" Her relationship with struggling actor Harrison Ford was strictly physical. "Harrison could f***," says Babitz. "Nine people a day. It's a talent, loving nine people in one day. Warren [Beatty] could only do six." Hollywood's Eve is a gossipy delight and entertaining reintroduction to a very talented writer of L.A. life. --Kevin Howell, independent reviewer and marketing consultant