Mangoes, Mischief, and Tales of Friendship: Tales from India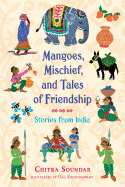 Indian-born Londoner Chitra Soundar (You're Safe with Me) takes inspiration from traditional Indian folklore in this hilariously witty compilation of original stories, illustrated by Chennai artist Uma Krishnaswamy.
If he wants someday to fill his father's shoes as a kind and just ruler in their small agrarian kingdom, 10-year-old Prince Veera needs practice. Luckily, his best friend Suku, the farmer's son, has an ingenious idea: the boys will open their own court and hear some of the minor complaints citizens bring before King Bheema. Soon the bold pair find themselves swamped with tough decisions: a baker wants to charge a poor man for smelling his sweets; a man sells a well to his neighbor but insists he still owns the water inside it; King Bheema himself falls prey to a dangerous superstition. Prince Veera and Suku have an uncanny knack for turning the tables on the unjust, devising solutions that beat swindlers at their own games. With pluck, wit and each other's steadfast support, Prince Veera and Suku prove wisdom isn't solely the province of maturity.
Soundar's energetic prose and wisecracking dialogue sparkle and Krishnaswamy's acrylic folk-based illustrations of characters and nature dance across almost every page. Like any folktale, Mangoes, Mischief, and Tales of Friendship is best when shared. Read aloud, the adventures of Prince Veera and Suku will surely captivate first- through fifth-grade classrooms, the dilemmas providing excellent opportunities for critical thinking. Independent readers age 8 to 12 are likely to delight in the boys' clever solutions, not to mention their ability to confound and outwit adults. --Jaclyn Fulwood, youth services division manager at main branch, Dayton Metro Library