Naughty on Ice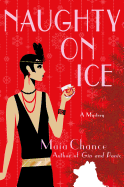 Lola Woodby, a fallen-on-hard-times society matron, and Berta, her former cook, have been doing well in business together, securing missing items. The Discreet Retrieval Agency is hopping, and Lola and Berta are especially happy to have a case taking them to Vermont just before Christmas. Berta, who is Swedish, misses the snowy winters of her childhood.
They arrive in Maple Hill at the request of the Goddard family, to recover a missing sapphire ring. But they're shocked when Mrs. Goddard, an extremely wealthy woman, falls down dead within minutes.
The local police are extremely suspicious about the timing of Mrs. Goddard's death, so Lola and Berta have to stay in Maple Hill until the killer is caught. But as they continue to interview the people present the night of Mrs. Goddard's death (requiring them to tramp through the woods, poke into cellars and skulk beneath dining windows), two more people turn up dead. Can the Discreet Retrieval Agency catch the killer before the killer catches them?
Lola's tongue-in-cheek narration and Berta's stolid Swedish responses make for excellent repartee. Set in the Prohibition era, Naughty on Ice is a funny and clever fourth entry in a series by Maia Chance (Gin and Panic, Teetotaled). With a slew of entertaining small-town characters, a wintery setting and several interesting twists, this witty novel is sure to appeal to lovers of lighthearted historical mysteries. --Jessica Howard, bookseller at Bookmans, Tucson, Ariz.