On the Same Page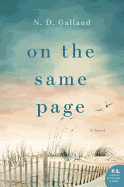 Martha's Vineyard is the setting for N.D. Galland's On the Same Page. Galland (The Rise and Fall of D.O.D.O., written with Neal Stephenson), an island resident, uses her insider's understanding of the social and political tensions as backdrop for a delightful romantic comedy.
Journalist Johanna Howes is Vineyard-born but worked off-island for years. Returning to care for a cranky uncle, she finds not much has changed. Year-round island residents are fiercely provincial, scorning rich summer people but needing the economic boost that they provide. One wealthy resident says, "You're xenophobes. You don't want outsiders coming in."
Johanna is hired at one of the two local newspapers but, realizing one salary isn't enough, secretly takes a job at the competing paper under a pseudonym. The biggest story on the island is the lawsuit of a summer resident who wants to land a helicopter on his property. The two newspapers take opposing views, and Johanna has to surreptitiously cover the story from both angles. "It's just simpler not to explain it to my bosses," she tells a friend.
Meanwhile, she begins dating an attractive man she meets at a zoning meeting, only to find out that he's Orion Smith, the very man bringing the lawsuit. Johanna engages in elaborate juggling to keep her jobs secret, and serious emotional gymnastics to try to dislike the man she's actually becoming very fond of.
On the Same Page is perfect for fans of Elin Hilderbrand and Nancy Thayer, as well as those looking for a romantic comedy enhanced by contemporary social issues. --Cindy Pauldine, bookseller, the river's end bookstore, Oswego, N.Y.