The Life of Frederick Douglass: A Graphic Narrative of a Slave's Journey from Bondage to Freedom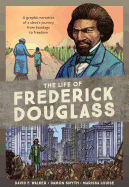 In The Life of Frederick Douglass, David F. Walker (Super Justice Force) presents a retelling of the life of one of the abolition movement's most famous leaders, a man "who exists as both a historic personality and as something of a mythological figure." With stark illustrations by Damon Smyth and Marissa Louise, Walker's graphic narrative brings Frederick Douglass to life, highlighting the lasting legacy of his work in the U.S.
Walker narrates The Life of Frederick Douglass in the voice of Douglass himself--a decision perhaps not surprising given Douglass's famous autobiography, Narrative of the Life of Frederick Douglass, and the transcripts available from his lectures on slavery, abolition and racial prejudice. "I made real for them the inhuman horrors of slavery," says Douglass of his lectures to crowds of white abolitionists.
Walker places these horrors in historical context with short lessons on the history of the slave trade, photography (and its importance in documenting Douglass's life) and the trajectory of the Civil War. He also highlights Douglass's key relationships--with his wife, and with abolitionist John Brown and Abraham Lincoln, to name a few. Smyth and Louise's illustrations highlight the human cost of these larger historical trends as well as the emotions packed into each of Douglass's personal relationships. The result is a work that, like the man himself, reveals the violence and horror of slavery at both the human and systemic levels and the pervasive legacy of racism it left in its wake. --Kerry McHugh, blogger at Entomology of a Bookworm