When the Truth Unravels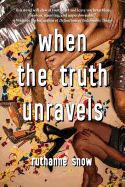 Park City, Utah, high school seniors Elin, Ket, Rosie and Jenna are best friends--sort of. Their relationships have been strained lately, but now it's the end of the school year and, as Rosie says, "[t]he thing is... when one of your oldest friends who also tried to kill herself wants to go to prom... well." You go.
Told in four voices, RuthAnne Snow's debut novel moves through prom night (which ends up being "one long nightmare" of missed messages, misplaced friends and some nasty sexual blackmail), flashing repeatedly back to "BEFORE" the suicide attempt. Secrets abound as each girl tries desperately to protect Elin from herself, her parents, her sweet ex-boyfriend, each an unhappiness that might send her spiraling again.
What sets When the Truth Unravels apart is the remarkably undramatic authenticity of Elin's situation. Throughout, everyone--readers included--waits for the big reveal: Why did Elin attempt suicide? Was there abuse in her past? Secret drug use? "Senioritis?" No, no and no. Elin simply and unbearably suffers from depression. Once properly medicated, she is baffled by the foggy memories of what she felt: "I was just sad? That was all?"
Coming to terms with her depression and finally trying to explain it to her friends makes all the miscommunication and turmoil in the preceding months all the more poignant. "[I]t's not 'just depression,' " as Jenna says. "It's f***ing depression. It's a nightmare, that's what it is, and don't ever think it's something to be embarrassed about." For teens struggling with depression or supporting friends who suffer, this novel offers a seriously good understanding of its devastating effects. --Emilie Coulter, freelance writer and editor