The Aunt Who Wouldn't Die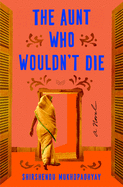 As spare as it might initially seem, Shirshendu Mukhopadhyay's wickedly entertaining novel, The Aunt Who Wouldn't Die, manages smoothly to illuminate gender inequity, cultural biases, socioeconomic disparity and familial dysfunction through a three-generational ghost story.
At 18, Somlata is wed to her 32-year-old husband, the "blissfully unemployed" youngest of an aristocratic family in serious decline. In the crumbling, sprawling household, Somlata discovers the newly dead Pishima, the family's tyrannical de facto matriarch. Married at eight, widowed at 12, Pishima endured a long life of isolated deprivation. In death, her ghost entrusts Somlata with a secret wooden box of vast riches, not as a gift, but as postmortem revenge against the family members who were more jailers than caregivers. Only Somlata can see and hear Pishima, who is now unabashedly raging, rude, even lewd. Between Pishima's taunting and needling, Somlata claims her own agency, unexpectedly silencing her detractors, manipulating the extended family toward recovery, reclaiming her philandering husband, birthing the long-awaited next generation and eventually providing Pishima some semblance of peace.
The Bengali octogenarian author's novel arrives in the U.S. with significant history already attached. Originally published in 1993, the novel--considered a contemporary classic--was adapted as the film Goynar Baksho in 2013 by director Aparna Sen. Award-winning translator Arunava Sinha clearly relished his work here, especially in resurrecting Pishima, whose post-death vocabulary becomes impressively profane: "It's not every day that a translator can dip into the gutter running through their heads in search of suitable words while performing a literary enterprise," Sinha muses in his ending note. For lucky English-speaking readers, that performance proves to be a splendidly engrossing feat. --Terry Hong, Smithsonian BookDragon