White Too Long: The Legacy of White Supremacy in American Christianity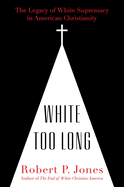 What happens when religion is coopted and corrupted? How is its hierarchical status quo maintained? Robert P. Jones, CEO and founder of Public Religion Research Institute (PRRI), explains what's at stake with a prophetic voice backed by complex history, data analysis and personal experience (as a product of the South).
Slavery has been called America's original sin, and Jones (The End of White Christian America) lays out the whys and whens of this legacy. He begins with the current moment "between an old and new order" and ends with a call to reckoning. In between, he explores historical context; for instance, many of the myriad monuments now in contention were the result of a campaign by the United Daughters of the Confederacy in the early 20th century to reframe the "Lost Cause" as a God-ordained political and cultural victory.
With religion too often interpreted to prove and sustain white supremacy, the United States has justified colonialism, slavery and systemic racism. And while Southern Baptists are Jones's primary focus, Catholics and mainline Protestants alike have been complicit in creating and maintaining a racist theology, both overtly and subtly, he says. "Reckoning with white supremacy, for us, is now an unavoidable moral choice." The easy way for whites is confession (without repentance) as a transaction for Black forgiveness, thus continuing "normalcy." But white believers (as well as nonbelievers) must get through defense mechanisms and blindness. "Allowing the waves of the past to crash on the shores of the present until the rhythm is familiar enough to ring in the ears... is a critical step and challenge for white Christians who are preoccupied with personal sin and salvation but unburdened by social justice." --Marilyn Dahl