A Map to the Sun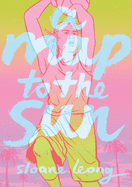 Vibrant art and rich storytelling combine in A Map to the Sun, Sloane Leong's deeply emotional graphic novel about five girls on a basketball team shouldering different burdens and learning to carry them together.
The summer before ninth grade, Ren and Luna meet. They spend the season together and then Luna moves away. She never calls. Then, in 10th grade, Luna transfers back, optimistic about reuniting with Ren. Except Ren's world didn't pause: her parents are separated, her dad struggles financially and her friends face repeating sophomore year. Their best chance at extra credit is joining the new girls' basketball team.
Invested in a future playing basketball, Ren wants her ragtag team to succeed. Yet they don't always check their emotions at the sidelines. Jetta self-harms as a release from her mom's alcoholic husband; So-Young escapes her sister's shadow by chatting with strangers online; Nell skips class to work at her family's convenience store to the tune of her brothers' fat shaming. Increasing the pressure to perform is the boys' coach, who vilifies the girls as "a drain on the school and especially on the boys."
Leong's (Prism Stalker) slice-of-life approach allows for a more truthful representation of adolescence; not every conflict receives a clear resolution, alluding to the girls' continued evolution. Evocative art accentuates the story's multiple tones, with every backdrop colored like sunsets and sunrises, thereby elevating the atmosphere of magical summers come and gone. Leong's clever use of panels makes scenes dynamic: suspended action in one panel carries the eye through the offstage transition to the next. A sweeping portrait of camaraderie, A Map to the Sun reminds readers that simple kindness and understanding can go a long way in helping someone heal. --Samantha Zaboski, freelance editor and reviewer