Ellie's Voice: or Trööömmmpffff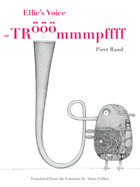 Ellie's Voice: or Trööömmmpffff abounds with music, and not just in terms of its subject matter. If illustrations could make noise, then Piret Raud's art would sing.
Ellie, a bird who lives by the sea, laments that she alone doesn't have a voice--"Even the rain sings when it falls." When the waves wash a horn ashore (it resembles an outsize shofar--at least at first), Ellie is elated. The noise that she makes with the horn, while non-euphonious (Trööömmmpffff!), summons appreciative animals from near and far.
Their cheers are interrupted by Albert the fish, who reports that the horn is missed by its rightful owner: "Duke Junior just isn't himself anymore without it!" Ellie is mortified: "Imagine that--Trööömmmpffff! wasn't her voice at all, but belonged to someone else!" After a long search, Ellie finds Duke Junior and gives him back his horn, which he proceeds to play marvelously: "The noise that Duke Junior made with the horn wasn't Trööömmmpffff, but was music" that "contained all the things Ellie thought and felt."
Ellie's Voice will likely give readers, too, the feels and something to think about. Estonian author/illustrator Raud's parable of self-acceptance, which features intricate black-and-white images of egg-shaped and otherwise oblong animals built with careful lines and pointillistic dots, harbors some applause-worthy sight gags. For one: the corpulent, big-eared and noseless Duke Junior isn't initially an identifiable creature; that he's an elephant becomes apparent only when he lifts the trunk-like horn to his face. No wonder he wasn't "himself" without it! --Nell Beram, freelance writer and YA author