Lineage Most Lethal: An Ancestry Detective Mystery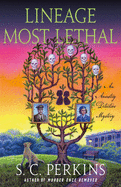 "Well, I'll be dashed.... It's a pigpen." Uttered by wily old fox George Lancaster, these words refer to something other than a mess. A cipher, to be exact--one that forces George to disclose long-held World War II secrets to his beloved granddaughter, genealogist Lucy Lancaster. To bust a murder scheme relating to an old espionage operation, they'll have to find the key and break the code before lives are lost.
Lineage Most Lethal is the second entry in S.C. Perkins's marvelous Ancestry Detective series, following 2019 Agatha Award nominee Murder Once Removed, and Perkins picks up the murderous magnetism right where it left off. Smarting from feeling ghosted by Harrison Ford-esque Special Agent Ben Turner, Lucy throws herself into her work for hotel heiress Pippa Sutton. Lucy is approached by an ailing, elderly man on the grounds of the Hotel Sutton. As he perishes, he presses a Montblanc pen against her hand and implores her to "keep them safe."
Charismatic Grandpa George comes to the rescue--as a collector of vintage Montblancs, he reveals to Lucy the special nature of the pen and its ties to a secret Allied mission. The messages held within uncover a plot for revenge that will embroil Lucy, George and the Sutton clan in a bitter grudge inherited through generations. Perkins's plots are thick with fascinating atmosphere, curios, history and family lore, but her humor and characters shine most brightly, holding readers in an embrace of warm and lethal Southern charm. --Lauren O'Brien of Malcolm Avenue Review