Rules for Being Dead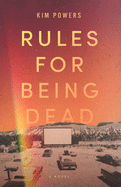 Kim Powers's haunting and spellbinding novel Rules for Being Dead reads like an intoxicating blend of the best of Shirley Jackson, Alice Sebold and Fannie Flagg. But Powers has created an original novel that is both a tender coming-of-age tale and a fascinating mystery that builds to a nail-biting climax.
Set in a small Texas town in 1966, the novel begins with the suspicious death of Creola Perkins, an unhappily married 44-year-old grade-school teacher, wife to alcoholic dreamer L.E. and mother to sensitive 10-year-old Clarke and epileptic seven-year-old Corey. The novel is told from various points of view--chiefly from the grieving Clarke and the earthbound spirit of Creola, who moves among the living and can see into the future but can't uncloud the last few days of her life. Was Creola's death an accident, suicide or murder? While the spirit of Creola wanders the small town wondering why she's not in Heaven or Hell, her final days start coming into clearer focus. At the same time, Clarke (who is beginning to realize he's attracted to male classmates) starts playing detective and comes to the conclusion that his mother's death was caused by his father (who already has a new girlfriend). When he finds a gun in his father's underwear drawer, he sets a plan in motion.
With a deceptively subtle, breezy writing style, Powers (Capote in Kansas) pulls readers into his tasty and tantalizing mixture of empathetic characters, Southern gothic coming-of-age comedy, mystery and magical realism. --Kevin Howell, independent reviewer and marketing consultant