The Death of Vivek Oji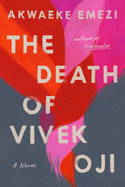 Returning to adult fiction after the success of their 2019 National Book Award finalist YA novel Pet, Nigerian writer Akwaeke Emezi brings readers a deep, tender look at a family unraveling around the tragic and early loss of someone they loved but never understood.
"They burned down the market on the day Vivek Oji died," the first chapter says in its arresting entirety. Born to Chika and Kavita, with a starfish-shaped birthmark on his foot identical to a scar his grandmother had on hers, Vivek comes into the world "after death and into grief." As a tween, he suffers from inexplicable blackouts, and Chika considers him too sensitive. As an older teen, Vivek finds solace and love among friends who accept him and in his impossible yet undeniably passionate relationship with cousin Osita. When Vivek's fabric-wrapped corpse is left on his parents' doorstep without explanation, Kavita desperately searches for explanations about his life and death, while Osita grapples with how much of the truth he should tell.
By turns raw and gentle, this gorgeous #ownvoices drama features a cast of diverse nationalities, sexual orientations and gender identities. The mixture of third- and first-person narration reconstructs a life, largely from secondhand accounts. Emezi (Freshwater) beautifully captures an ordinary family in all its loving, hurtful, messy glory, then thoughtfully demonstrates that pressure placed on one member can backfire and undermine the entire unit. A spot-on pick for thoughtful book club discussion, The Death of Vivek Oji wraps up heartache with hope. --Jaclyn Fulwood, blogger at Infinite Reads