The Last Stargazers: The Enduring Story of Astronomy's Vanishing Explorers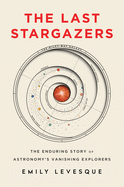 The popular image of an astronomer is a lone figure peering into a telescope, discovering brand-new stars or trying to make contact with aliens. Emily Levesque, astronomer and "weird star enthusiast," knows the reality is a little different. In her first nonfiction book, The Last Stargazers, Levesque charts a course through the rapidly evolving field of astronomy. With humor and heart, she explains the basics of what astronomers do while relating dozens of entertaining anecdotes about her chosen field. She also makes a strong case for why humans should continue to study the skies.
A dedicated backyard stargazer as a child, Levesque spent her undergraduate years at MIT, before earning her Ph.D. from the University of Hawaii. Like many astronomers, she has spent time observing the night skies at some of the world's most powerful telescopes, tucked away in remote locations such as the mountains of Chile, rural New Mexico and Hawaii's Big Island. These observatories function as small ecosystems (human and scientific), and Levesque gives readers an insider's tour of their protocols and quirks.
Recent advances in telescope technology have allowed astronomers to observe the skies from the comfort of home and collect mind-boggling amounts of data, but the field still relies on human skills that can't be replicated by a machine. Perhaps more importantly, the study of the skies is predicated on wonder--and even the best telescopes can only note and demarcate data.
Warm, engaging and packed with highly accessible science, The Last Stargazers is thoroughly entertaining and an impetus for readers to take up a little stargazing of their own. --Katie Noah Gibson, blogger at Cakes, Tea and Dreams